Cittadini dell'Ordine is committed to containing Covid-19 through the provision of various security services and solutions aimed at companies, commercial activities and public administrations for carrying out regular work activities in total control.
The solutions for corporate security and the containment of the Covid-19 emergency proposed by CDO:
Facial recognition and temperature measurement systems
The AI ​​Face Detection system allows you to capture up to 30 faces simultaneously using a 4Mpx sensor that allows a view of the area of ​​interest with an excellent level of detail.
The Body Temperature Compensation thermal sensor, on the other hand, guarantees the measurement of body temperature in the minimum difference of less than 0,04 ° C.
The combination of these two systems allows the discrimination of hot springs present on large areas of interest.
Facial recognition, temperature and green pass readers
The temperature detection and facial recognition terminals CDO they are instruments that offer high performance and reliability: fast in recognizing, precise and quick in acquiring information, after having detected the body temperature any febrile states are signaled.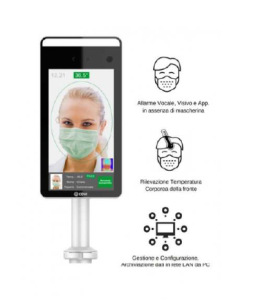 Operating staff
Guard personnel ordinarily provided by CDO it can be requested as operational support for tasks related to compliance with the rules for containing the Covid19 emergency.
Would you like to receive more information about our services? From today you can book an informative consultation without obligation with our commercial agents in total autonomy!
Select the date and time you prefer, answer a short questionnaire to help us better understand your needs and wait to be contacted by one of our consultants in your area on the date and time of your choice.